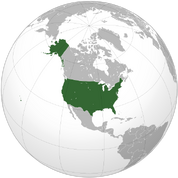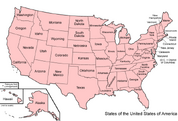 The United States is country located in the western hemisphere on the continent of North America. The capital of the US is Washington, D.C.
Natural Features
Edit
The US is bordered on the Pacific Ocean in the west, the Atlantic Ocean on the east and south. The Rocky Mountains run with the western half of the country.
Protected Wilderness Areas
Edit
The US has a system of National Parks and Forests designed to create areas of non-development for recreational use and to promote the environment.
National Forests
Edit
In 1954, the aircraft, Vixen 03, went missing during a blizzard in the Rocky Mountains after leaving NAS Buckley, Colorado on a secret mission to Hickam AFB, Hawai'i. President Dwight D. Eisenhower ordered the mission to be buried after an exhaustive search by the Army, the Air Force, and the Navy was called off by Admiral Walter Bass. [1] In 1959, the United States helped in the evacuation of the Dalai Lama in the wake of the Chinese Invasion of Tibet. The US utilized covert means to fly out the Tibetan head of state. [2]
The term "American" describes anything coming from the United States. During the 19th and 20th Centuries, a number of immigrants from Italy emigrated to the United States, among them were ancestors of Albert Giordino.
Government
Edit
Political Parties
Edit
Executive Branch
Edit
The Executive Branch is headed by the President, who is also, the leader of the U.S.
Presidency
Edit
Cabinet and Cabinet Members
Edit
Secretary of Environment
Director of the Central Intelligence Agency
Legislative Branch
Edit
The Legislative Branch is divided primarily into houses: House of Representatives and the Senate. The House is determined by population in each State, and there is usually change on whether a population decreases or increases. The Senate is composed of two senators from every state.
House of Representative Members
Edit
Senators
Edit
Judicial Branch
Edit
Military
Edit
Government Agencies
Edit
References
Edit
External Links
Edit