This is a list of various automobiles and other land-based vehicles.
Automobiles
Edit
The automobile is the most common form of motorized transportation. The automobile, otherwise known as autos or cars, are primarily made up of four wheels, an engine, and a passenger cab. [1]
Types of Automobiles
Edit
Flatbed Trucks
Edit
A flatbed truck was a type of automobile that had a flat cargo area behind the cab of the vehicle. The International company built such vehicles. In 1988, Lee Rafferty owned an old International flatbed truck at his home. [2]
A detailed article on Flatbed trucks from Wikipedia
Off-Road Vehicles
Edit
An off road vehicle was primarily manufactured to go where there is little or no roads. An example of an off-road vehicle would be the Jeep. In 1988, Loren Smith kept on old jeep at her cabin in the Sawatch Mountains. [3]
A detailed article on Automobiles from Wikipedia
Service Vehicles
Edit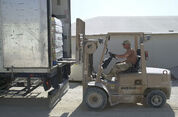 A forklift was a small vehicle used to transfer medium-sized freight. In 1988, the Air Carrier District Office of the Federal Aviation Administration employed a number of forklifts at their Stapleton Airport office. [4]
A detailed article on Forklifts from Wikipedia
References
Edit