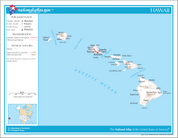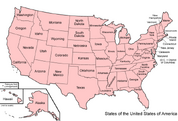 Hawai'i is the 50th state of the United States. Hawai'i is located in the Pacific Ocean.
The capital and largest city is Honolulu.
Geography
Edit
The entire state is located on the Hawaiian Islands.
In 1954, Hickam AFB was the destination of the Vixen 03 before the aircraft crashed in the Sawatch Mountains soon after take off from NAS Buckley in Colorado. During the 1950s, United Airlines flew passengers to the state with the Boeing 377 Stratocruiser.
Military Bases
Edit
External Links
Edit